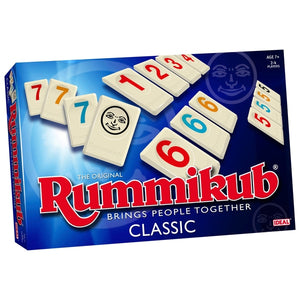 The Rummikub board game is a number strategy challenge that's never the same.
Be the first player to play all the number tiles from their rack in a Rummikub game of strategy and skill. Lay down tiles in 2 types of set to clear your rack: groups or runs. Groups are sets of the same number in different colours, while runs are sets of consecutive numbers in the same colour. Soon you'll be seeing Rummikub patterns everywhere!
Players can manipulate the tiles already on the table to their advantage. Rearrange existing sets to suit your tiles or add to them to use up a tile from your own rack.
The Rummikub board game is a 2 to 4 player game that's great fun for all the family
Contents: Rummikub game with 106 tiles, 4 racks and rack holders
Master the fast-paced game of tile manipulation
Place all your tiles from your rack on the table
The Rummikub game is for 2-4 players
Features 8 sets of tiles in 4 colours and 2 jokers
Board game for ages 7 and up
Dimensions: 33.5L x 0.8W x 9.5Hcm