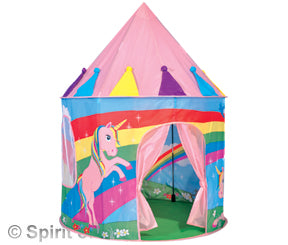 Create a kingdom in any corner of the house or garden with this magical pop up structures for kids. This charming tents have enough room for two or more children to play, featuring a flap front door for easy access that can be tied up, or Velcro tabs to secure it closed.
Each pop up tent has a UV protective applied to the roof section so it can be safety used to provide partial shade outdoors.
Supplied in a carry case for easy storage.
Height: 130cm
Diameter: 100cm
Age: 3+